OK, so what's this?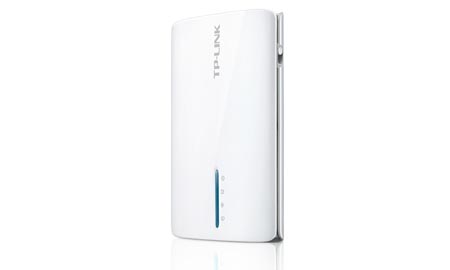 On the face of it, a TP-Link MR3040 3/4G router.  These are cheap mini routers which are designed to take a standard USB broadband dongle, wired up to your cellular provider, and allow more than just 1 device to utilise them.  This particular model has a rechargeable battery built in, giving it a few hours of use without being hooked up using standard mini-usb.
However, this device utilises Open-WRT, a flavour of Linux embedded into a variety of devices.  I first came across Open-WRT hacking about 6-7 years ago, when a colleague at the time told me how he'd hacked a little network print-server and re-purposed it as a web server by hacking the Open-WRT he had installed.  "Neat" I thought, not realising the potential at the time.  More recently I picked up a cheap PogoPlug to use as a personal home-based cloud device, and learnt that similarly, it can be hacked and re-purposed.
So, with my limited knowledge of Linux, and barely competent command line usage, I trolled over to http://piratebox.cc/ and saw what devices would be worth a try.
The piratebox is not just a standalone webserver, it also acts as an access point, so you don't need a traditional wifi router attached using normal networking, to a server box.  The piratebox wraps the 2 together.
There are 4 primary versions of Piratebox; one for the Raspberry Pi (the Pi(rate) box), one for laptops (those preferably running Debian Linux), one for Android (which by the sounds of things is not particularly stable, and suffers from the same problem as all android software, and that's device specificity), and one for OpenWRT.  the OpenWRT version supports the TP-Link MR3020 and MR3040 routers.
The MR3020 requires a power source running across mini-usb to run, and there are examples on the Piratebox site of these running from USB powerpacks, which are becoming more popular as people want to charge their smartphones on the run.  I preferred the look and feel of the MR3040 because it's a little sleeker, and has it's own rechargeable battery, which would make it slightly more appropriate for running while on the move.
I do like this picture though of an MR3020 duct-taped to a skateboard.  Nice.
This is a dismantled MR3040 piratebox.  All that's actually required apart from the router itself and a USB memory stick for the Piratebox software and storage, is any windows or linux machine which can:
1. drop the installer onto the USB stick (and in the pic is  a SanDisk Cruzer Fit 32GB, which I got simply because it keeps the overall size of the unit down to the minimum) and
2. connect via a network cable to the MR3040 prior to setting it running, to log in via SSH and kick start some services (download PuTTY for that).
Even with my rudimentary linux command line knowledge, I had it up and running within about 15 minutes, and most of that was waiting for the installer to crank up.
So what do you get?
Well, out of the box (ahem), you get a simple fileserver, (which is more than happy to run a mini DLNA server, which means any videos you stick on it will play direct onto smartphones with no effort), a chat server, and a functional forum system.  The bonus is, because the guys who put it together thought about it, it also runs a responsive design, so it comfortably runs on smartphones, tablets and laptops.  (I do admit to it being a little flaky format-wise though on my ipad 2).  In the spirit of its purpose, there is no wireless security on it, you just get redirected to the homepage when you connect and attempt to open any web page.  Again, this was somewhat flaky on my ipad 2, but fine on my iphone.
It's an effective and covert tool for use in urban/public spaces to transfer files, communicate using the chat page, and leave messages.   Off the top of my head, I can imagine using it at festivals, during protest gatherings, or as a dead drop in Malls, City Centres, community areas, and so on.  the only limitation is the power supply, and the size of the USB stick installed into it.  (It looks like a USB/SSD affair might be too much of a power draw, so normal sticks would apply).  I'll be trying it out with a 20000mah USB power pack to see what the up-time is like, although that'll be under almost zero load.
The MR3020 comes out about 20 quid on ebay, but bear in mind it does need a power source to go with it.  the MR3040 varies wildly on ebay surprisingly, I got lucky and paid only around £15 for mine, but they get up to £40 in general.  I used an aging Samsung NC10 netbook on windows XP to do the setup, and the TP-Link comes with a short ethernet cable anyway.
My next trick will be to install on Raspberry Pi, with one of the power rigs I've sourced for it, including a Solar panel set up.
This is only the first of several decentralisation toys I'll be looking at in the coming posts.  While it's strictly a temporary tool, it's still a fine weapon in your armoury.